The Piano Life Saver System from Dampp-Chaser is designed to aid in stabilizing the humidity in your upright or grand piano to maintain tuning stability and to ensure that your piano investment is protected from long term humidity changes.
Why is controlling humidity important for pianos?
All pianos are made primarily of wood and metal. Both of these materials can feel the impact of either too much humidity or too little. If your piano is in an environment where the humidity levels swing significantly, then you should be taking steps to help reduce it's fluctuation. When you keep the humidity stable around your piano, the tuning will stay stable longer, and it will protect your investment by prolonging the pianos life. If you wish to learn more about the effects of humidity, please read our article How to Care for Your Piano – Understanding Humidity.
If you look very closely at old pianos, those that are over 80 to 100 years old, you will typically see tarnished or corroded strings and cracks in the larger wooden parts – the soundboard and the bridge. This is not unusual considering that these pianos were around at a time when homes were heated with wood burning fireplaces and well before air conditioning was invented. Decades of swinging humidity levels, from extremely dry to very humid, has a lasting impact. The wood in pianos is seasoned by manufacturers prior to assembly – ideally, your instrument should be at a Relative Humidity (RH) of 42% to 45%. Excessive dryness (low humidity) over time can remove the moisture content from the wood to the point where it can no longer gain it back.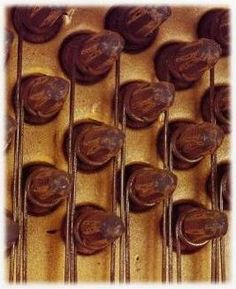 The Piano Life Saver System, when correctly installed by a piano technician, will help to stabilize the humidity levels and prevent the loss of the wood moisture content. These systems are recommended for use particularly in environments where the ambient humidity goes through a wide range of humidity changes.
The installation of a Piano Life Saver System is just one of the many ways to protect your investment. Regular maintenance and care are critical to the overall health of your piano – this includes regular tunings (one or more times per year), internal and external cleaning, the regular inspection of moving parts, and lubrication. For more information on the general care of your piano, please read our article How to Care for Your Piano – The Essentials, or feel free to contact us with your specific questions. More detailed information on these systems can be found on the Piano Life Saver website.
Lee Johnson
Certified Piano Technician
Master Piano Services
21 Keewaydin Street
Waterdown, ON  L8B 0K1
905-407-4224